Perimeter Fence: Galvanized Mesh Panels
Welded Type Perimeter Fence, Residential Fence
Perimeter fence is a structure that circles the perimeter of an area to prevent access. It can be make a cage or as fencing for life-area. The fence used for life-area often have spikes or Barbed wire on the top to prevent climbing.
Material: Low carbon iron wire, Low carbon steel wire, stainless steel wire or other wire.
Color: Dark green, red, yellow, blue, white, black, grey,ect.
Perimeter Fence Production Line: Material - Straighten & Cut short machine - Welded machine - Galvanized bath - Bending machine - PVC- coated machine & Powder coated machine.
Classification
Construction sites perimeter security temporary fence;
Security System Airport Perimeter Fence;
Y type post Green PVC Coated airport perimeter fence;
Perimeter Security Aluminum Ornamental Fence;
Perimeter construction guard safety mesh fence;
3D sensitive site perimeter 358 fencing;
3 horizontal tube steel perimeter residential fence.
Feature of Perimeter Fence
- The mesh design: suitable bending + strengthening steel wire, not only greatly enhance the strength of fence, also contributed to bending fence unique artistic effect.
- Surface treatment: galvanized + strong adhesion electrostatic spraying or PVC coated processing, all kinds of color can be customized according to customer requirements, color collocate with space to makes fence for protection and decorative.
- Accessories design: unique embedded link design, make the post and mesh more strong.
- Easy installation: using chassis column, just make good expansion bolt installation, installation quickly. The post also can be directly embed in the ground
Perimeter Fence can be used for roads, railways, highways, living area, villa area, development zone, construction, city green land, garden flower bed, park and playground.
Some Puplar METAL MESH Perimeter Fence Products
Green Vinyl Coated Welded Perimeter Fence for Life-area
Garden Fencing
Mesh Panels and Razor Wire with Y Post Support Coils, For Airport Perimeter Security
Welded Perimeter Fence Panel On The Wall,
For Prision Security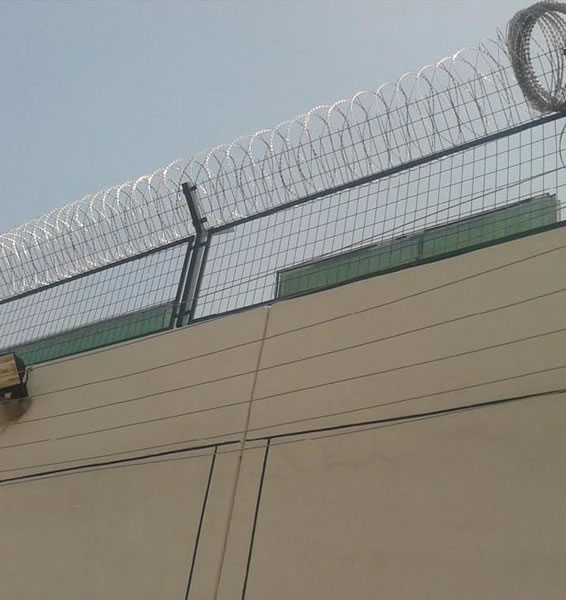 Galvanized Steel Mesh, Cloth and Netting Products
Metal Galvanized Mesh Fence
Wire Accessories